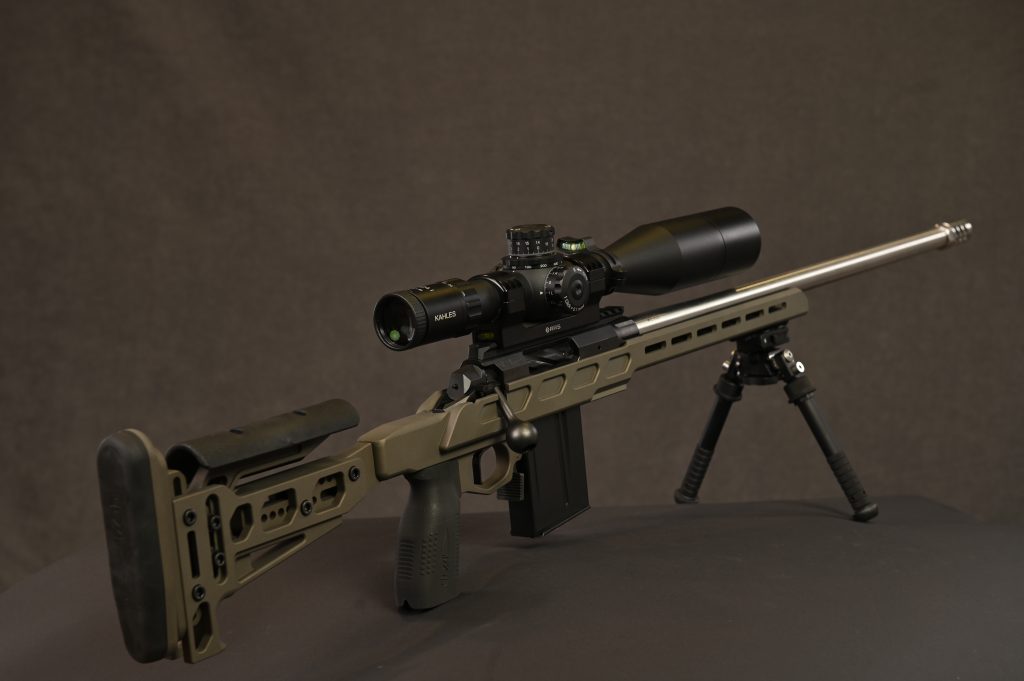 Tactical Sniper Rifle
DEADLINE DYNAMIC ARMS
The DDA2020 (Deadline Dynamic Arms) is hi-end precision modular bolt-action rifle, developed to meet the highest requirements for sports, law-enforcement and military use in the toughest environments. It features a top-end stainless heavy barrel, extremely maneuverable, lightweight and very fast action (Short Action, 60 Degree Bolt Throw), single stage adjustable trigger and result is perfect for tactical applications.
The DDA2020 is the result of extensive research and tests in tight cooperation with specialists in weapons design, thermodynamics, long-range, tactical and sport shooters, and sniper operators from the army and the police. The DDA stock is a single-piece aluminum chassis with a refined and universal design, that dispersers the temperature of the barrel faster than any existing system, thus enhancing the performance of the barrel, keeping it within an optimal temperature range even during an intensive rate of fire. Extremely suitable for hot climate areas. A sub 1/4 MOA and better grouping capability is guaranteed with the high-quality factory and reloaded ammo. The innovative modular stock is fully adjustable in its all parameters, to the personal preferences of any shooter, and his specific anatomy, in the same way as the high-end precision sport rifles. It is designed in a way that the rifle can be shot from all practical positions without the need for intermediate adjustments. The cheek-rest can be switched for left-hand users. The integrated ambidextrous thumb-rest, together with the interchangeable back and front straps of the ergonomic grip, ensures the ultimate trigger control. Multiple attachment points for Picatinny rails and accessories are available alongside and underside of the chassis, as multiple sling attachment points.
TECHNICAL SPECIFICATION
Manufacturer: Dynamic Arms Ltd.
Model: DDA 2020
Type: Bolt Action
Caliber: MULTI (.308 Win., 6,5 Creedmoor, 6 Creedmoor, 6,5×47, 6XC and other)
Action: Ultimatum type
Short Action, Rem 700 Improved
4340 Steel Construction with Liquid Hard Nitride Coating
60 Degree Bolt Throw
Integral Recoil Lug
Removable Floating 3 Lug Bolt Head
Gas Blocking Shroud with Anti-rotational Lock System
Change of barrel with barrel nut systems
Barrel:
IBI Match Grade 416R Stainless steel barrel
twist and rifling: 1:8 and 4R for caliber: 6,5 Creedmoor, 6 Creedmoor, 1:10 and 5R for caliber .308 Win.
Threaded muzzle: M18x1
length: 24 or 26 inch
Stock:
Dynamic Arms T-Class Champion
M-Lok rail – 6 ports, on three surfaces
Integrated ARCA Rails for tripod
Overall Length: 1175 mm with 26 inch barrel
Weight: 5,5kg (without scope and bipod) or 7,1kg (with scope, bipod and accessories)
Trigger: Single stage adjustable (TrigerTech, Rem 700 Diamond Trigger with Flat Straight)
Magazine: AI Detachable (3901, 3902)
Sights: Picatinny scope rail 0, 20 or 30 MOA
Accessories: (included in the package)
Angled bag rider
Picatinny rail M-Lok 6 slots – 1 pc.